RECORDING & MIXING SERIES
You can get pro level recording and mixing results at home, and this series will quickly show you exactly how it's done. You will learn how to set up your studio properly (which is critical and often done wrong), basic signal flow, pro recording tips, expert mic techniques, cool processing & effects, eq, compression, delay, reverb, MIDI, mixing, and much more.
Our Lead Trainer, Manny, is one of the best minds in the audio business and he will quickly guide you through the confusing web that is audio production.
The bundle listed below (all three levels sold as one – listed below) is an amazing deal to insure you're on the right track.
This is for beginner to pro levels, and applies to all digital and analogue systems, and all software.
Recording and Mixing Series – Level I

2+ hours to get you started
In this easy-to-follow series of videos we're going to speed you through the basics and more. Setting up your studio properly is CRITICAL to getting great results. We cover this and will also show you basic mic techniques, recording basics so you can get started with laying down your tracks, and pro recording techniques for: vocals, electric bass, acoustic guitar, standard terminology you need to know, and more. This level is a must for beginners to make sure you are on the right track.
Only $19.95
$19.95Add to cart
Recording and Mixing Series – Level 2
2.5 hours of videos to take you deeper
This level is where we start into the exciting topic of processing, and we will give you a solid overview of how to use important tools such as EQ (equalization), Compression, Reverbs, Delays, and other powerful tools you need to make your recordings sound great. This level will also give you a basic overview of MIDI (commonly used for recording drum machines, synthesizers, and virtual instruments – a must for all Electronic Music Producers), show you some cool editing skills you can use to really polish your tracks, and we cover some basic mixing skills.
Only $24.95

$24.95Add to cart
Recording and Mixing Series – Level 3
3.5 hours of videos – mid to pro level
This level will go much deeper into pro mixing techniques, and also has an in-depth studio set up section (something we feel you must know). It also includes a more comprehensive look into using MIDI, more important details about tracking vocals, drum kits, pro techniques for working with Loops, recording guitars, bass, and much more. This title is what earned us our reputation as an industry leader!
Only $29.95
$29.95Add to cart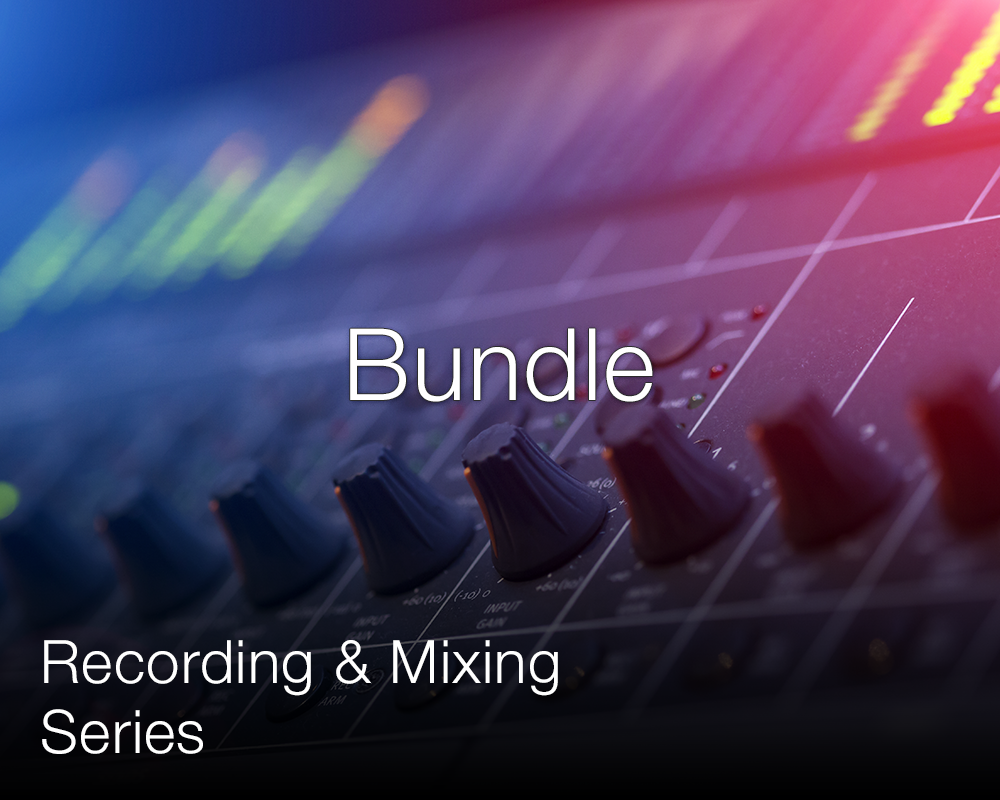 Buy all 3 levels as a bundle and save over 20%
This bundle includes all three levels listed above, and almost all our customers purchase bundles. It is an excellent way to learn your basics and a lot more, plus you'll save money while learning how to have fun recording & mixing!
All three levels normally $74.85
Only $59.95
$74.90 Add to cart
More from Secrets of the Pros
Bundles
The best way to get complete training is via our discounted bundles that combine 2 or more training series. More than 80% of our customers & friends go this route.
These will save you a lot of money, even more time figuring out complicated software and hardware, and insure you have a solid foundation so you can focus on creating music.
Plus look below for our Personalized Bundles! We can create a perfect bundle for your needs!
Personalized Bundles
If you feel you need a customized training bundle for your exact needs we can make it for you!
If you have some of our training and want more, but don't see a discounted bundle that fits what you want, contact us and we will make a CUSTOM BUNDLE FOR YOU!
Plus we'll give you a big discount because we appreciate you as a customer and friend of Secrets of the Pros.
Performance Series
if you are a passionate fan of music, a musician, songwriter, DJ, and especially if you are a drummer … you must see this title!
Imagine getting to hang out in a world-class recording studio with one of the most talented drummers alive. Along side of him is the bass player and music director for one of the biggest bands in the world! In this title you will see amazing performances, hear crazy stories about life the music industry, and learn about how music is created from a couple of guys who have been doing it for decades.